Interesting…can you share, please?
Thanks,
I will try to finish the files asap
I managed to finish the upload to thingiverse. Hopefully it works
In the past there were several ideas and designs for more rigid and printable XZ main parts.
In my opinion every printed version does not fullfill my expectations on a more ridgid Lowrider…
But in fact I really like the original design from Ryan!
So I looked for a different material and found a cheap way with some 50x50x5mm aluminum extrusion profile.
It is a 4 side milling job - 3 sides are already finished. Looks good so far.

I will post an update when the first side is assembled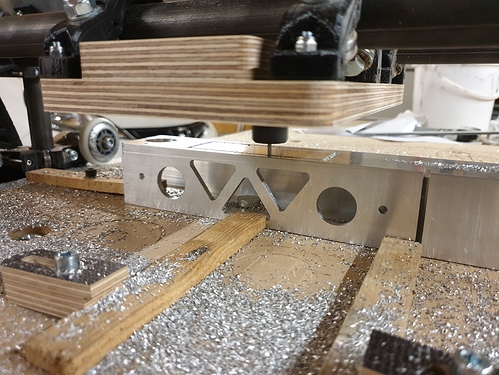 Is the tube hole an interference fit? If not, what/how is the tubing secured?
It is a tight fit and the tubes are secured by M6 screws.
I love those parts…sexy as all get out!
AND a 4 sided milling job…be still my beating heart!
Somebody's reading the Tawny Scrawny Lion.
Ok, I'm going to have to do this. Any info/tips you're willing to provide?
Of course! I will share the CAD file on thingiverse.
And in regards of the 4 side milling - I use the automatet zero point function of Estlcam. Instead of the touch plate I use the workpiece itself… In this way, there is no need to fix the workpiece in the exact same position after it is rotated for the next side.
The only thing to care about is that the aluminum profile has to be cut square on the left reference plane
Wow, well done. This looks like a really great project you've carried out, thank you for sharing.
Ordered the aluminum stock. This will be fun!
@Rich Ooooh, nicely done sir. Could you by chance share the CAD files?
Thank you!
I just uploaded it to thingiverse
Rich,
When you get a chance, can you describe your set up as it pertains to probing/locating? Considering the success you've had milling multiple sides I'm quite interested in learning what hardware/process you've implemented.
I attempted to view the DXF file in Fusion 360, but it is not scaling properly to 50mm on the short axis.
Would you be able to provide the center to center dimensions of each of the pipe holes, along with any off-sets from center necessary for these, as well as the stepper offset?
50mm X 50mm square tube is not available to me, and I need to modify for 2 inch by 2 inch with a 1/4" wall. It's close, but it's not quite exact.