May i ask, is the logo an engineering symbol? Or is it some random drawing you created?
Oh man, this is such a good trivia question. Let me see if anyone remembers what it is.
I will tell you tomorrow if no one knows.
I vaguely remember a conversation here a couple of years ago…
Didn't the logo came from a bunch of jobs you ran on your machine and that pattern/design was engraved into the spoil board?
I don't know…shot in the dark maybe … it could that have been on a different site
Heh, I only know because it came up semi-recently. The answer is in this thread somewhere.
Absolutely right!!! NOT the CNC…also has another post from Dec 2017 that say where it came from.
Wow was i overthinking it!!! It is the truck for the cnc??
Yeah I was redesigning the MPCNC parts so often I knew the dimensions by heart. I saw that as I was designing a new truck and center piece, that turned out not to be super functional (I planned on making a injection molded set).
So it is the side profile of the rail rolling parts, 3 bearings 120 degrees apart.
I really thought it was an engineering symbol that I was not familiar with. I like it!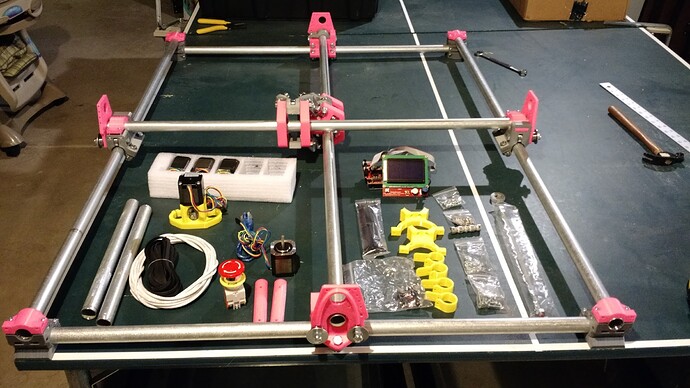 This is from my first build in Apr 2016. The trucks here had that 120 degree bearing offsets on the trucks. I think it was more pronounced on the 525 version and definitely burly.
Which version did you start embossing the logo? I want to say burly, or the LR1.
I have that picture printed out and hanging on my toolbox. I know I kept it around for a while to make sure I liked it.
A lot of the other files are dec 2017, that might be when it went official, or when I did a backup.
What do you think? Is it a winner?
Love it, now I have it about 8" tattooed on my back.
That tattoo did not come out well…
That's a shoulder tatt, for sure (maybe even over-sized and tribal). Leave the tramp-stamp for Sandify to generate…
The v1-mythology-symbolism is being canonized!