After having some success with the excellent tutorial by @ianj001 , I decided to have a go at doing this with fusion. Here's some info on how to do it… unfortunately not a full blown tutorial. I find the cut times for me were about 4x faster and also it supports those v-groove bits with the flat bottoms so I've got some on order since at least for the female parts it would mean better cleanup without changing bits.
I started out making a sketch, adding some text with the text tool, then picked 'explode text', then using the mirror command to mirror it.
After that it was:
Female - Right: 1) 2D pocket with V-Groove bit ( I used 30 degree)
Male - Left : 1) 2d Adaptive with a 1/8" fluted bit then 2) 2d Pocket with the V-groove bit
For all the paths, I set the bottom height to -2mm from stock top
For the male V bit pocket, I set this value so it didn't try to re-do any of the cleared areas: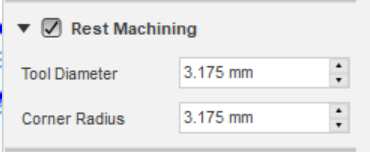 Note that it doesn't matter which order you do the male cuts. You can do the pocket first then the adaptive and it still works.
Now the secret suace… by default it will try to do the V cleanup with the 0.1mm tip on your bit which will take FOREVER. I ordered some new bits with 0.5mm and 1.5mm tips to play with, but in the meantime we can cheat and just tell it we have a fatter tip. You may wind up with some ridges depending how hard your wood is and how fat you set the fake tip. I set mine to 0.8mm and it went pretty fast but the bottom wasn't perfect. Maybe 0.5mm would be cleaner.
There were some hairline gaps similar to what I saw with F-Engrave but they disappeared when I sealed with some danish oil:
If you want a tighter or looser fit you can adjust the 'stock to leave' on the two male toolpaths. Positive will make it tigher, negative will make it looser. May try a very small value on my next run like 0.05mm just to leave a small gap for glue at the bottom and apply some extra pressure on the sides. Without any offset I was able to get the male and female pieces to meet flush when I put them in my vise for glue up.