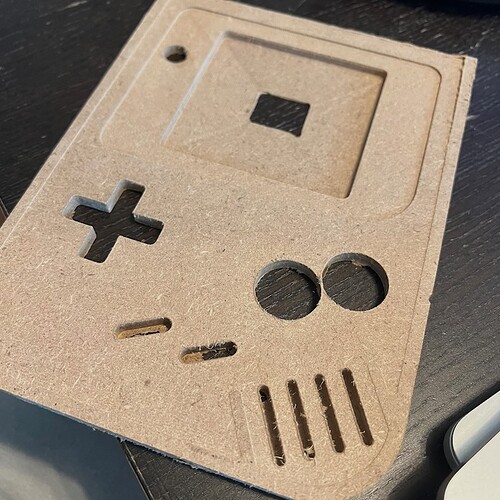 I'm going to apologize in advance because this is not a plea for assistance. I just wanted to share something I was doing wrong that ended up being really confusing and sent me in the wrong direction. I thought maybe it would possibly help someone else.
I finally finished building and wiring up my Primo(24"x24"). I was attempting to make my first cut using a combination of Fusion 360 and CNC.js. I know, I know, Estlcam is recommended, I was just hoping to save a few bucks. My first print was going to be an SVG of a Gameboy I found into a piece of scrap MDF.
Anywho, I got everything setup and zeroed and initially it appeared to be cutting fine. I was super stoked that this worked as planned. As the cut moved to the second pocket cut at a slightly higher depth(?), I noticed it was "cutting air". I canceled the cut and re-zeroed everything, and tried again on the exact same piece of wood.
Since it was already partially cut I couldn't see anything wrong with the already cut pocket. Second pocket, all air again.
I tried re-installing the bit, reading the g-code, re-doing the cut configurations, re-zeroing over and over, re-checking every measurement I could think of, and reseating/tightening every ball bearing on the z-axis. Nothing made a difference.
About 9-10 attempts in, I saw what it was. Right as it was making the first cut, it would have a little bit of chatter that would vibrate the bit up into the chuck/collet.
I am using an adapter that steps the 1/4" collet down to a 1/8". I thought I had it seated properly, and the bit felt like it was in there super tight. It was not. Once I pulled the collet out and examined how the adapter sat in it, I could see I did not have it in far enough.
Once I seated it in there properly, there was no more chatter, and no more bt getting pushed up into the router. The cut went as perfectly as I imagined it would the first time.
I was certain my issue was software related but it was "not having my tool installed properly" related.
If anyone has this same issue I hope this post helps.