Hi. First off all…wow, what a fun start with the MPCNC. So happy so far.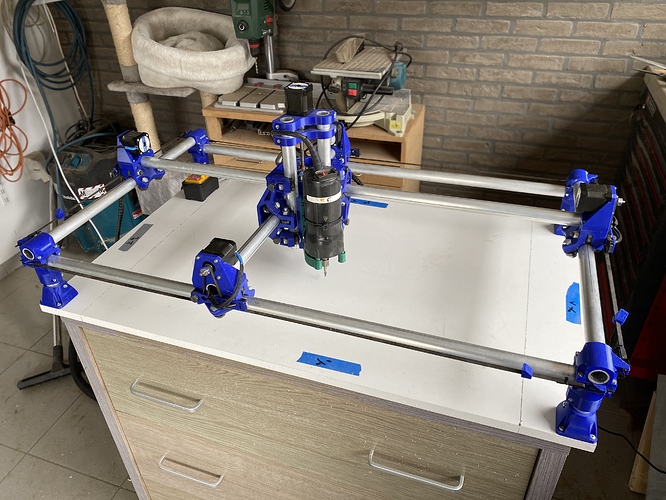 But yes, like some others, I suffer from weird z-axis movement. I have read a lot of topics, but I can't get my head around it. I changed the steps per mm to get the correct result. That is no issue.
It works fine with a pen. After that, I have added a router. It's a beefy one I had laying around… specs are hardly readable.
My first tests were engraving the crown and some other models. Sometimes, the z-axis kept going lower and lower during travel up & down. I have added forced cooling on the stepper drivers, it's not getting hot, and checked the reference voltage 0,9V for a 2A stepper. And I have changed the acceleration.
The T8 screw is running very smoothly and giving both G01 and G00 commands on the z-axis just keeps working all the time… never fails.
But when I generate a whole sequence in Estlcam, it just starts wandering off. Most off the time, it runs great at the start, but it keeps going higher and higher, just routing in free air. The Estlcam cnc program seems to be OK with nice G00 z5 commands to move back up to the clearance, followed by the G01 z-12 command to go to the next layer. When looking in repetier-host, I can see that it's at z=-12 but actually, it is 2mm above where it started instead of 12mm lower.
So… just to be sure : if repetier host says it's on -12 … and it's not… then I am missing steps right ?
Painfully, it never happens when sending manual commands.
What are my best options ?
step1: have a program that runs without the router on in mid-air and check Z-movemens to rule out wire interference from the router mains wire ?
step2: have a program that runs without the router attached to see if it's the weight of the system that does it ?
step3: check the temperature of the z-axis motor during all that ?
any idea's are welcome.
SENDING:M503

echo: G21 ; Units in mm (mm)
echo: M149 C ; Units in Celsius
echo:; Steps per unit:
echo: M92 X200.00 Y200.00 Z3200.00 E200.00
echo:; Maximum feedrates (units/s):
echo: M203 X50.00 Y50.00 Z15.00 E25.00
echo:; Maximum Acceleration (units/s2):
echo: M201 X180.00 Y180.00 Z40.00 E180.00
echo:; Acceleration (units/s2): P<print_accel> R<retract_accel> T<travel_accel>
echo: M204 P180.00 R3000.00 T180.00
echo:; Advanced: B<min_segment_time_us> S<min_feedrate> T<min_travel_feedrate> J<junc_dev>
echo: M205 B20000.00 S0.00 T0.00 J0.04
echo:; Home offset:
echo: M206 X0.00 Y0.00 Z0.00
echo:; Endstop adjustment:
echo: M666 X0.00
Y0.00