Hey folks.
I am new to MPCNC but not new to CNC. I am having trouble with the Z-axis seeming to get lower and lower as the job progresses.
About my build: I am using an MKS Gen L controller running µCNC (custom build from master but @Paciente8159 has eyeballed my config for issues) with RB 42SHDC4043Z-22B stepper motors. The board and steppers are ex an old Tevo Tarantula 3D printer that I stripped for parts. It is using TMC2208 stepper drivers and I have configured the VRef to 1.35V by way of this calculation:
stepper_max_current = 1.5A
        rms_current = stepper_max_current / 1.41 = 1.0638A
               vref = rms_current * 2.5 / 1.77   = 1.5V
          safe_vref = vref * 0.9                 = 1.35V

I took apart the Z-axis yesterday and found the top outer bearing bolts were too loose, so I adjusted them also. I discovered that they were rubbing on the router, so I twisted the router slightly to avoid this and replaced the hex-head bolts with button-head screws. See photo below: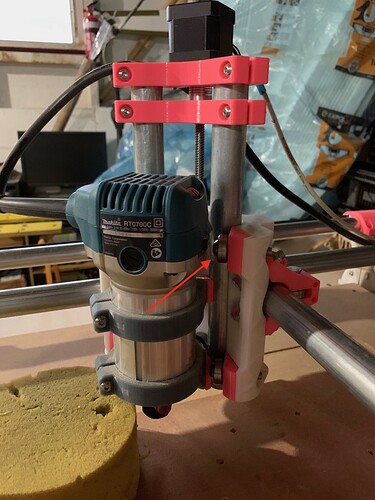 Additionally I removed, reapplied locktite to and tightened the coupler grub screws.
So this AM I ran the machine for 6 hours straight on a loop of G1 Z20 G1 Z0 (at F360) which it performed flawlessly. I used compression of the sponge in the photo to eyeball it, but also measured with callipers before and after and measured no discernible change in z-height.
So, I thought I would run the file that previously failed on the already ruined piece of stock to see if the situation has improved - and you can probably guess that the machining did not go well.
Here's a link to a Dropbox folder containing video and the nc file as generated by Fusion 360.
There's a nearly 30 minute long video of it running before I gave up and hit the e-stop at around minute 16 you can see that what originally was a safe travel level now drags the tool across the surface of the stock. There's also a timelapse for the impatient.
I'm kinda struggling with what to try next as I've tried everything I can think of. Keen for any feedback.
Thanks!