Hi y'all in the forums,
I have been fascinated by the ZenXY table for a very long time now and have actually printed but never built version 1 of it. Problem is, we do not really need a table anywhere we would not already have one. Modification of existing tables was also a nay-nay.
And while we sat and debated about where to put a ZenXY v2, our eyes fell upon our home barista bar, that usually looks like this: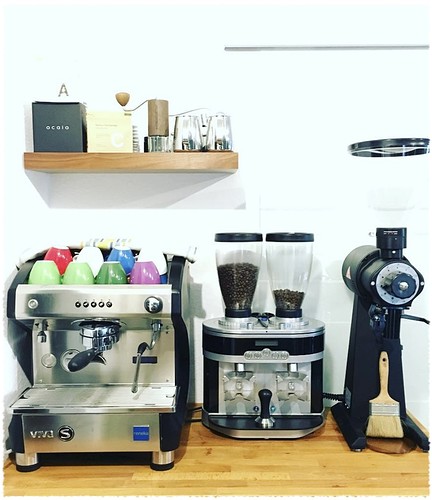 In the back of it there is a recess for a sliding door to our kitchen. I have recently swapped for a smaller coffee machine that has nothing on the right of it (no grinder etc.) and a smaller footprint. Right of the machine I want to add 100cm of ZenXY v2 footprint, which equals an X image dimension of ~816mm.
The depth of the cabinets below the counter is 60cm, so the machine footprint allows for an Y image dimension of 416. So basically a nice 2:1 ratio
The count has a thickness of 26mm and from the top I want to cover it with 4mm security glass so nothing goes wrong when I drop the tamper some day in the future. I will NOT waterproof it, since I have never spilled something within the last 8 years and I'm OK with the trade-off of cleaning up should I ever slip up vs. figuring out how to prevent spillage going into the enclosure.
I did not stop to design anything in CAD at this moment though we might return to that for the LED strip fixture around the sand basin…
So this is all I have to go for now, maybe you can figure out where this is going from there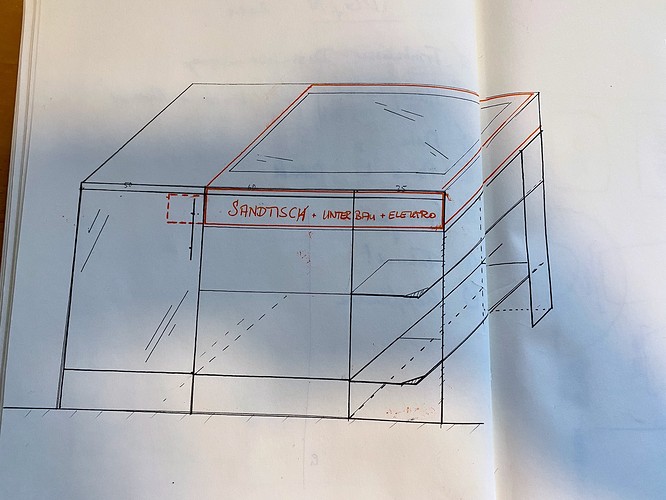 I will post pictures quite deliberately as people can skip the thread if they aren't interested I think.
As it is currently quite pandemic around here I don't want to go out and buy any material, so I decided to use only existing things I have in my shop (wood, etc) besides the SKR Mini Board I bought for this project.
I also want to mention that this might be the first EU-version of the ZenXY v2, since @vicious1 was kind enough to provide files matching very common pipe sizes in the EU you can get for very cheap at every hardware store (aluminum or steel, 18 and 25mm required). I had asked about the rail sizes in this thread.
I want to invite you and follow along with my build. The inspiration is basically completely from @jeffeb3 ZenXY table he integrated into his work counter. We want to do the same.
Some things still bug me but I'm sure I will figure them out along the way
For example the distance between the sand and the top when using a 10mm steel ball. If I support it from below with a flush inlayed panel of 4mm hardboard there is only 17mm left of "air". Is that enough? Also for the LED around it to achieve their effects? I can easily create space below since we do not plan on using the top 12cm of the cabinets for anythin besides the ZenXY hardware.