I've not made much recently because I had to dissassemble my MPCNC, with all the fears that I'd never work out how to put it all back together again. Strangely though, and I did completely disassemble it, I found it rather satisfying. I gave it a good clean as well, and made the wiring a little more robust.
The first sign was a commission for a retirement, the second something I'm offering to a local woodshop (the section dealing with a specific wood has a sign made from that specific wood so you can recognise the grain).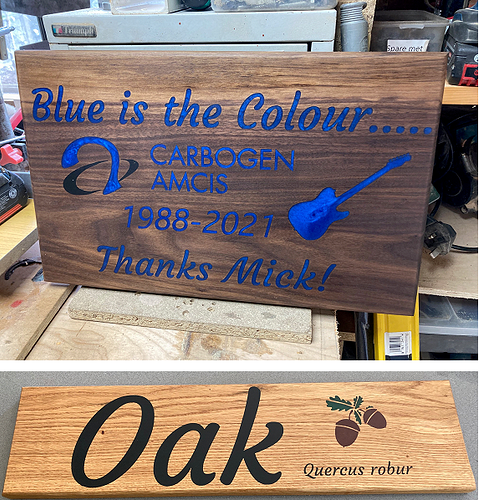 Same MO as before. Cut to 3mm depth (endmill for the majority, 30° V Bit for the finish), then through the thicknesser to remove the top 1mm and most of the bleed.
What was most interesting about this move was that I've discovered my machine is quieter than before, even though it has no enclosure! My enclosure was made from mdf and really about dust control, but I feel like it was resonanting somehow. Things are quieter in the shed now!
@vicious1 I couldn't be more grateful for this amazing machine. It's just fantastic where it's taken me.