Hello, me and my father (mostly my father tbh) have built the MPCNC, it works fine, but sometimes holes get really weird. Let me explain:
I'm using Fusion 360 to create my parts, and I'm trying to create a better spoilboard. So I made a small piece to try the differents screw sizes (these 2 are very slightly different), which looks like this: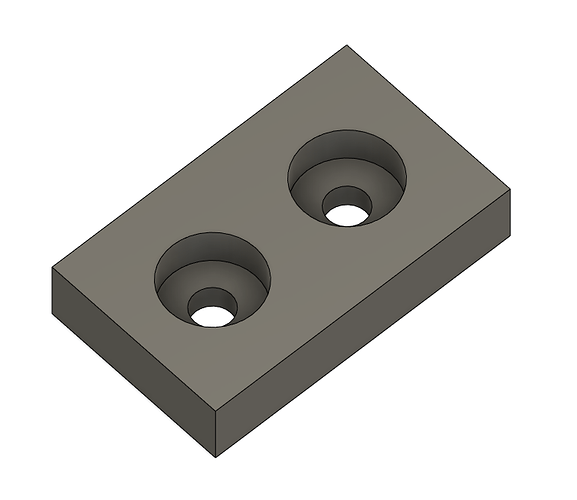 It is for 2 M6 screw, so I made the central hole 6.2mm, and the diameter for the screw head are 14.5mm (left) and 14.8mm (right). The outer side is perfectly fine (it's like 30.2mm in reality for 30mm on sketches). But the holes, they are at the wrong size. First time I cut it, they were cut really poorly (like only a cross shape, I don't know why). I re post-processed the file and it worked, the circles are circle as intended. But they are way too small. It's 5.8mm instead of 6.2 for the small hole, and 12.8 & 13 instead of 14.5 & 14.8 for the bigger ones, which is really annoying. And circles always had a strange behavior since we built this machine. Which uses ramps 1.6.
In fusion, I used 2d adaptive machining for the bigger holes, and 2d contour for the smaller ones and the rectangle shape. Here is a list of all the settings I used (which are almost the same as default):
imgur(dot)com/a/wKQHg8q
A simple solution would be to scale up my holes (what I used to do), but now that we're upgrading a bit the CNC I really want to solve this problem once and for all.
I also tried slowing down the speed using the screen to like 20%, but same result, it's really weird.
I also checked for the diameter of the drill by simply going down on Z axis, and the hole is the right size (3.175mm) as theoretically. So if anyone have an idea of why it's acting like that, or any tests I could perform to solve this, it would be nice. Thanks in advance