This thread will take me a little bit to get all the details together but I wanted to share my approach for modifying the MPCNC Primo to provide as comprehensive of a walkthrough of how to wire the electronics for the CNC but also how to safely and reliably manage the cables. This has taken me a few months to prototype and test everything. Prior to this I was running an original MPCNC design for several years. It worked ok but had some issues and some of my parts were cracking and needed replacement. When my trim router finally went belly up I decided it was time to rebuild everything.
Presented here is the, mostly, final result of my efforts except I still am waiting on some barrier terminals and a new usb-c cable so I can finish the electronics cabinet. My modifications have been adapted along the way from ideas I found in multiple places. In the end, I modeled and built everything from the ground up. I don't remember some of my original sources so forgive me for not citing them. The one exception is @randysteck as he and I are friends in the real world. He is largely responsible for getting me into the cnc and 3D printing world and I drew inspiration from his original cable mount that attaches to the stepper motors.
First the final product: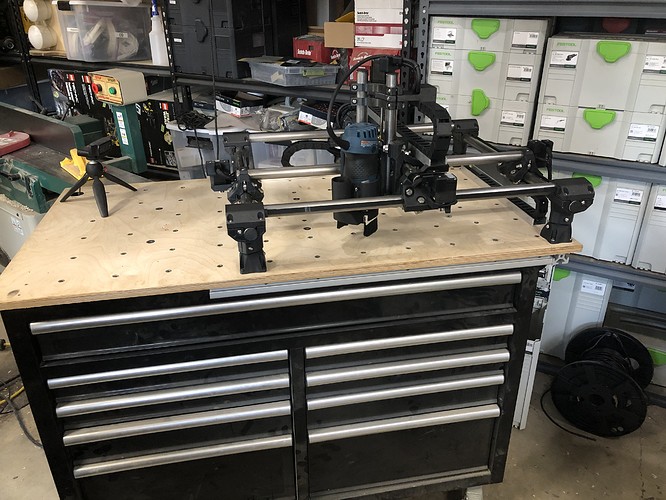 In the next few posts I will go through some of the design and modification details. I will eventually include all of the 3D files so you guys can use them if you find this helpful. I will also include a tutorial on the physical wiring of the machine at some point as that still has a lot of missing details in the assembly instructions.