just want to start out by saying thanks again… to anyone and everyone whos helped me here especially ryan!! COMING from zero experience in cnc designing and wood working ive come a long way thanks to all of the inspiration here!!!
ok after pulling all my hair out im here again lol
i feel like i should start from the top to show exactly whats going on to help keep me out of your guys hair!!!
heres my table 4x8 ft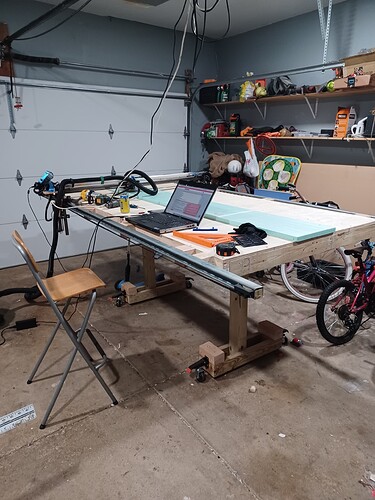 i have dual endstops setup and endstops on x and z
(im pretty sure my end stops are longer than my table is length wise though)
heres what im working on …
ggarden123456.gcode (1.6 MB)
i made it in "photoshop" used "vector magic" to vectorize it into an svg. used "inkscape" to create the dxf.
then into estlecam to trace the paths (i chose to carve it) and create the gcode for repetier host
and here is where im stuck
i have the machine homed to the endstops and i want to begin the cut at a certain place on the table
(but i have no clue how to do that) (or which program i need to do it from) lol
as of now ive been trying to use the
(G92 X0 Y0 Z0
G00 X0.0000 Y0.0000 Z0.0000 F2100
G00 X0.0000 Y0.0000 Z5.0000 F500)_
code
but the machine still moves up first away from where i set it and doesnt plundge down before it starts moving around like its doing something lol … it just moves to a different position to start the process pretty much
(( should (F) commands in the gcode be ignore when using for milling/cutting? ))
also i created a smaller file of the gcode im ultimatley trying to accomplish cutting .
im using just a small portion of the total and it still says it will take 4 hrs lol … i have to be screwing something up! im using the skinny 1/8th carving bit i order from here w the 45 degree angle
heres that smaller gcode
outer left.gcode (226.6 KB)
any help is GREATLY appreciated!!!