I like my coffee basically straight. No [Insert Preferrred Coffee Chain Here] cocktails for me.
So I thought…espresso cup!
Fun project. Useful result.
Learned a bit of Blender to create a cup mesh, chop it in 3 and export the stl's for Estlcam to model.
The carve went well…and I know how to really improve it already so great learning experience. Here's a glued up piece and 3 carves for a second cup.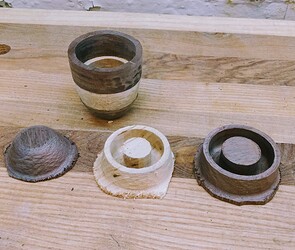 Some sanding.
Finished it with a beeswax and mineral oil blend to waterproof it in a food safe way.
Turned out nice: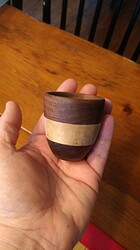 Testing time…
Add some hot water and see what happens.
Well…clearly I don't know from wood.
Looks kind of neat though.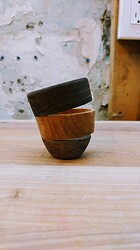 Thinking it through…
Non-waterproof glue + hot-water = leaky cup.
Soft Ash middle with insufficient waterproof seal = expansion and warp.
Ah well.
Any thoughts? Is this even possible?