Hello!
I'm trying to use Fusion 360 to generate the gcode for my first real cut on wood but I'm running to some problems that is better to check before proceeding with any cuts…
I have an Arduino Mega 2560 and a Ramps 1.4 with Dual End Stops' latest firmware. I'm running Fusion 360 on a Mac and i used this Flyfisher604 Fusion 360 Post Processor (v1.beta5) is Available (Flyfisher604 v1.beta5) to import the PP. Unfortunately I have some problems importing this (https://github.com/guffy1234/mpcnc_posts_processor) as Fusion does not recognise the files.
Question #1. Is Flyfisher604 v1.beta5 the right PP or not?
Question #2. Am I screwing up things big time here, or this is a bug? Has anyone tried this?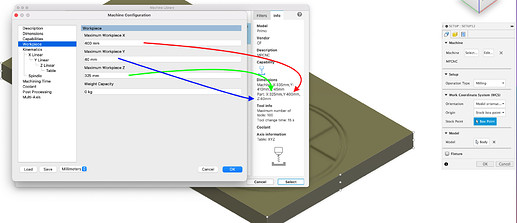 Question
#3
. When i had the 3 dimensions on the "right axes" i was getting an error that both X and Y max dimensions were smaller than the actual piece. Now that I altered this way I get the same error for Y.
thank you in advance!