Nice! How did you cut from the stl?
Awesome. The legs look cool from the side almost like they were cut from two angles.
One way… Tinkercad. These are flat, so import STL and export as SVG. Import into Inkscape… then use JTech laser plugin to create gcode.
Yeah. I did essentially the same thing in fusion… Create a sketch from the plane and save as a dxf.
Christmas gifts… Laser engraving a few of these Ikea soap dispensers.
[attachment file=79806]
This was the spare I bought for testing the material. The real ones are centered properly.
2.8W jTech Photonics laser at 100% power, 300 mm/minute = 5mm / second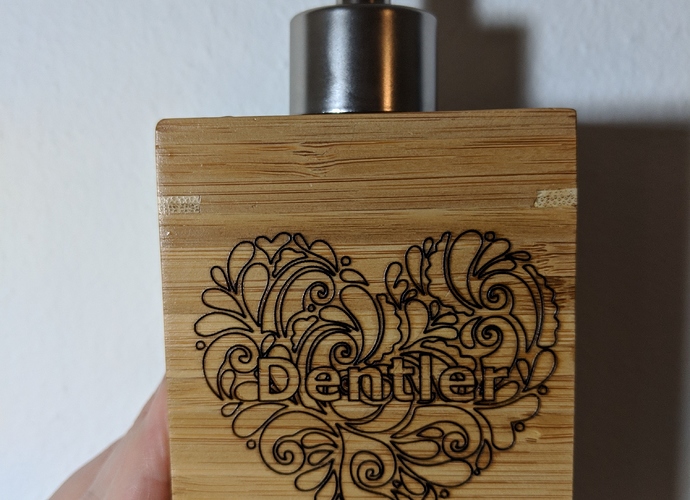 WOW, that looks like a tattoo. Maybe the way the finish burnt or something. I really like the looks of that.
Thanks Ryan. It reminds me of Henna.
This is my first time working with bamboo. It feels like the black around the edges of the cut actually raised up a bit, and there's a sticky residue splattered all around the engraving. I don't know if this was finished & sealed, or if that's just what happens with bamboo. The sticky residue washes off with a little soap, but the raised bits remain. I like it.
Yea, that's the acrylic burning.
I think commercial products usually use laquer to finish wood (ikea does things differently sometimes) so it might be super toxic.
It could also be the natural sugars & starches in the bamboo caramalising from the heat of the laser.
We have bamboo flooring in our house and the company makes 4 different shades, from a natural blonde colour to a dark chestnut. They achieve this by effectively cooking or steaming the boards for different lengths of time to caramelise them. So there are no stains or dyes used, the colour is consistent all the way through & they can be sanded & refinished if needed. Lovely product.
www.bamboozle.com.au
We really want bamboo floors, but the price is holding us back. Maybe after the windows, doors are replaced, and adding siding to the house, and the kitchen is replaced…