Hi everyone, hoping you can help me diagnose!
48"x60" LR3 dual endstops
SKR pro1.2 TFT 35
Controller and all hardware from V1 shop.
Makita 700
Single flute (from V1) first and only endmill I've used
Dewalt shop vac for DC
Running files from SD card in screen
I recently built this machine. Had it up and running for a few weeks. Been successfully cutting 3/4 plywood. Successfully cut the attached file yesterday. Attempted to cut the same file this evening and that's when the issue arose. Seem to have lost x steps, leading to misaligned cuts. Skipping seems to happen at the far right(rail side). Once the 'skip' happened, it continued to run normally (although misaligned) until I stopped it.
No other tools were running in the shop during this cut. Mini fridge was the only other thing using power
Pictures of where the lost steps seem to have happened: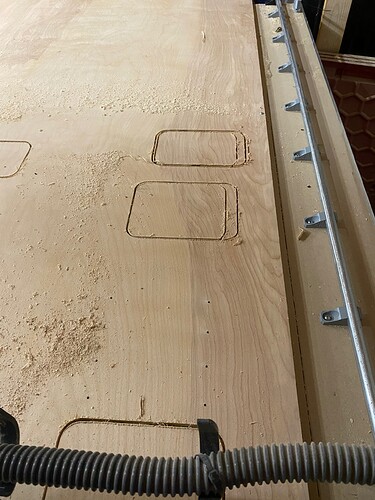 I'm planning to run it again in the morning, on the same work piece (to hopefully not waste another costly sheet of birch ply) and see what happens. I'll record it with a camera.
Tower Nov17.gcode (84.7 KB)