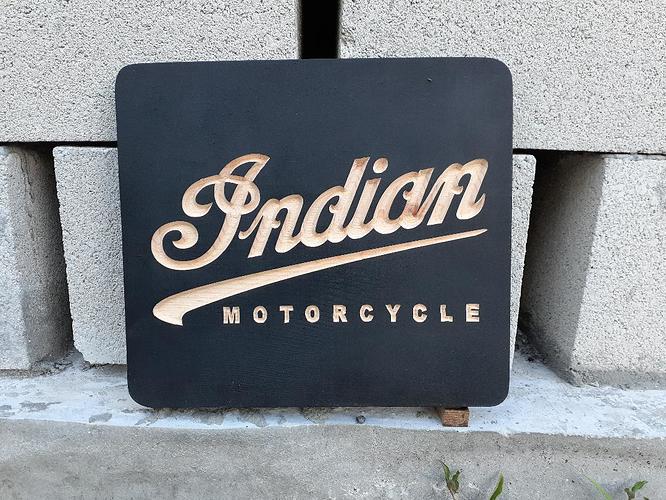 This is a simple carve and I originally had no intention of posting it, but I noticed something on the carve that I thought was worth sharing.
I did this carve after a major tune-up on my lowrider. First, I replaced my MDF Y-plates with plywood ones. (I live in Florida and the heat and humidity had not been kind to them. The wheels were at an angle to the table that was not 90 degrees.) I had noticed when I did really expansive jobs that covered a large part of the (8' x 4') table, I was getting inconsistent depth of cut. I stripped my table top down to the 2x4 frame and used the lowrider to surface the frame itself. I found a deviation of over 3mm over the surface. Then I essentially made it a torsion box by gluing and brad-nailing 1/4" ply to the top and bottom of the 2x4 top frame. All this work took quite a bit of time and effort.
So, when I did this carve and noticed that the word "motorcycle" was all gnarly, I thought that maybe I had just screwed things up and thought surely there was something wrong with the machine. But, I also could see that the rest of the carve looked really nice.
So I went back to the source graphic file and zoomed in. Sure enough, the carve looked EXACTLY like the graphic. The lowrider had done exactly what I had asked it to do.
So, my sincere apologies to my lowrider for doubting you.