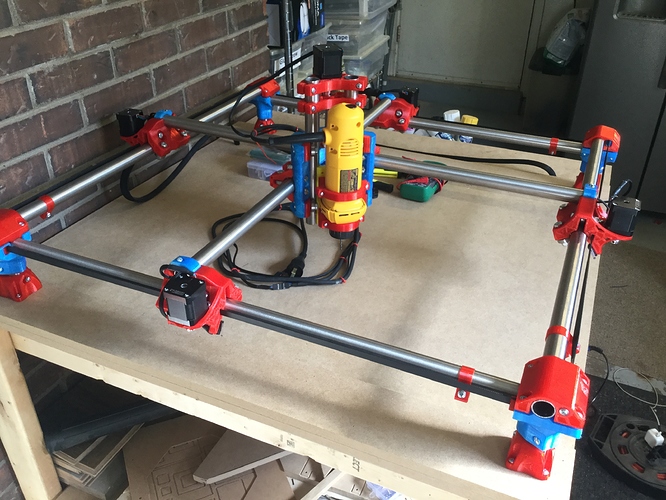 I guess big issues is overstating but none the less the following issues are preventing me from enjoying the cnc.
I spent some time battling with opposing motors on x & y axis . That was resolved pretty quickly as I have been using this wire harness over the last 5 years purchased from V1 and most recently the primo upgrade kit.
The machine is 36" BY 36"
DeWalt 660
Ramps 1.4 with lcd & duel Endstops
Dvr8825 drivers set to 0.7
I decided to use a new arduino and ramps 1.4 and drivers that I had so the burly components were left as they were.
After booting the board with 414.D bug fix 2.0 mpcnc duel endstops.
I was ready to move the machine around(opposing stepper movement was my first hurtle) and immediately noticed the machine did not respond the way it should. Motors were hissing and after moving only a couple mm's and would lock up(hissing would continue).
I think it's important to point out the drivers after a couple mins of me scratching my head became very hot.
Tried to move the x axis 1mm and it would jet 2 inches.
That alone led me to believe I have something wrong with my set up.
I decided to switch the board back to the burly setup (I kept the old one in tact as I had new duplicates of everything) The burly setup performed the way I left it including z axis (as expected).
The only issue I can see with this is when I home x & y the gantry just moves like 10mm to the right and 10mm up( I wasn't using endstops before).
Home should be bottom left so again the fact that it didn't home has left me puzzled.
Board for burly is V 414 bug fix 2.0. Duel
I have scoured the forum and instructional materials.
A little confused with how many drivers are needed 3 or 5.
Plugging In The Steppers¶
Remapping of pins is used in the firmware to allow the use of all the control boards drivers. The unused extruder driver/s are used for the extra stepper/s.