Just sent this one off yesterday… Birthday party is on Thursday. At least this one, I wasn't up until 3 am to make sure it got done!
They wanted a monogram, and a bee. Worst part was trying to get the bee done from the bad file they sent me, and then I did the epoxy in one step, which cause me some grief when the yellow bleed into the black. Ended up having to carve some of the monogram out with my Dremel and re-pouring that portion of black, but in the end, you can't tell.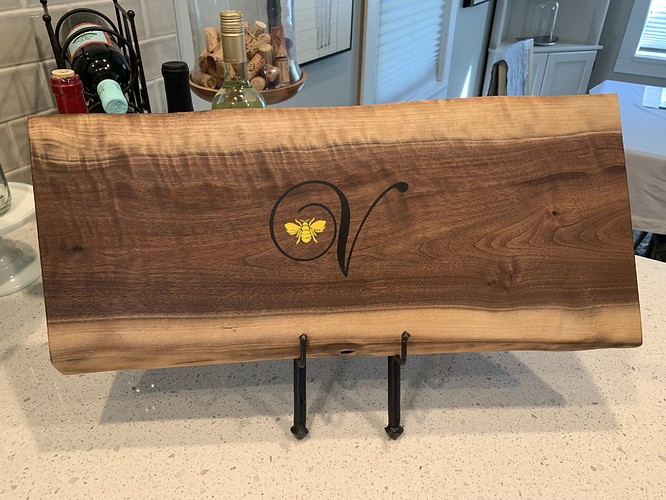 Next up, a wedding ring holder. Wedding is happening on Friday, I'm wanting to get this done tonight. Nick of time manufacturing!
On the plus side, I've got the new laser set up, and it's churning out cutting boards for me at about 4 to 10x the speed of my past setup, plus I can use the CNC while the laser does it's thing. Had some setup issues with it, but think I've gotten past that now. crossing fingers Larry currently resides on the shop floor, till I decide his new long-lasting home. My GF is suggesting we move him inside, but then I can't run the compressor, and I'm concerned about smells. I want to get him set up in the garage with proper ducting, to see if it's tolerable.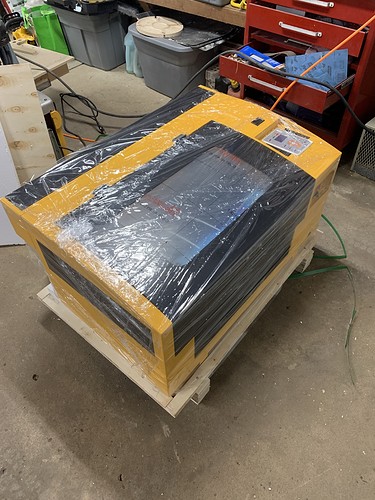 C