HI can i by chance put two rails insted of one

does it make a difference
2 Y axis rails, one either side of the gantry? Think Ryan mentioned something about that causing problems by over constraining
, that's why one side has bearing (or skate) rollers
Yes to y axis rail , the thing is im going to mount it on a foldable bed
Curious what foldable bed you come up with. Something I didn't realize when learning about the project initially, is that the LR3 just rests on the Y rail, it's not clamped in anyway.
The gantry falls off when vertically mounted, found this out when lifting my 5'x10' sled vertically, being tired and inebriated contributed to that screw up. Consider having replacement Y endstops on hand…
Curious, would you use 1" conduit for Y axis(es)? how to get YZ plate rollers to grip onto the conduit, while also still being able to mount the conduit to a table surface? Maybe 3D design some slim rail mounts. Slim mounts and drill press through top of the conduit, for bolt through conduit, mount and thru table even. Received by Nylock nuts under table surface. Or, maybe bolt through conduit, fasten to nut captured in underside of the rail mount, use separate screw fastening mount to table, similar to existing rail mount. Either way, modify design for roller bearings angled and spaced wide enough to clear conduit bolt heads. Could maybe ease life by making and CNC/3D-print jig to assist with keeping drill holes 200mm apart along the conduit colinear?
Or, take diff strategy minimizing labor by switching to spendier linear rails for Y axis?
Ok, so now I'm really curious
where you're heading?
Partly curious, because originally wanted to use LR on 15deg from vertical tilted surface, but LR uses gravity to assist with cuts.
well ill keep you posted ,
for the bed rails i was thinking to thing
1 weld some screws un de the pipe
2 screw them from down the bed
and iwas rethinking the 3d printed part maybe
make a belcro strap and mounted on my aluminum rails
this is my idea from this morning
sorry for the art work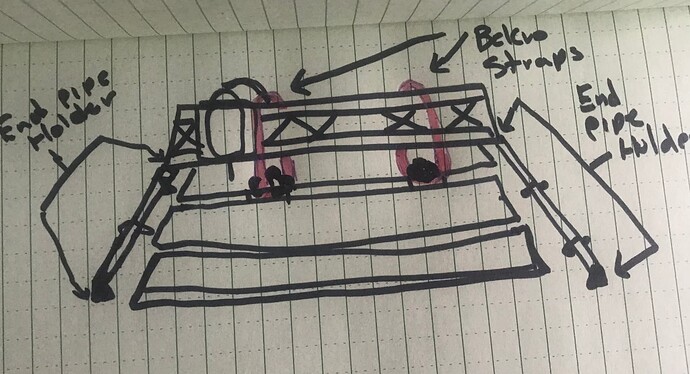 I really suggest just taking the LR off of the table, it is made to do that. Strapping it to a table is not a good idea, could warp it.