Small update,
my project is paused as I am looking for some replacement spacers to fit the wheels.
It seems that my wheels need 6mm long M8 spacers that I can´t find locally.
For the moment I can only find some 3mm nylon spacers that might do the job. But the cost is as much as ordering another set of wheels. So I am on the edge of buying other wheels instead.
I also wanted to start the construction of my table, but came to 2 conclusions:
The initial plan was to make a torsion box. But looking at some other users their pictures, I stumbled on the fact that I wanted to make the upstanding sidewalls 14 cm heigh, that will cause issues as there´s only about 10cm space on the Y plates.
So would need to redesign…

My workspace just got smaller again due to storage for renovation. So instead of a "solid" workbench I think it might be best to make something I can easily move or stow away.
And it must be coincidence, but I stumbled on a promotion in my local DIY shop. For these sawhorses: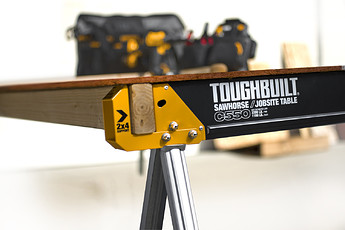 I think that this would be an interesting alternative for my table, as it is quick to dis-/assemble and easy to stow it away. And I can easily add a full sheet onto it if needed!
Only need to think on how I can mount the belts easily…
Last night I quickly mounted the 3D parts on the Z plate. Hope the screws on the bottom will not be in the way when operating.