This is actually a work-in-progress. More work on the design side than I wanted, as he was fussy on the font used for the wording, and wanted an image of a semi truck on it. And of course, he wanted it to look like the recipient's truck. So I broke open Inkscape, and hacked away…
Got his approval on the layout the other day, and then we started talking about how he wanted it to appear. I could laser it out, carve it out, or carve and paint it. But then he mentioned wanting it to look more "natural but wanted the text to pop", so I opened my big mouth and said that the most natural way would be to inlay some contrasting wood for the text. Showed him some pics, and of course, that's what he wanted. Which isn't a big deal, as the process seems to be pretty well documented, so I just needed to work through it myself to make sure I had it right.
So tonight I started on a test piece. A friend of mine rides a Ducati, so downloaded their logo and went to work. Here's the main piece. Kinda wishing now I hadn't just used BB plywood for it, but I've got some maple and the gcode files to make a nice one once this is over.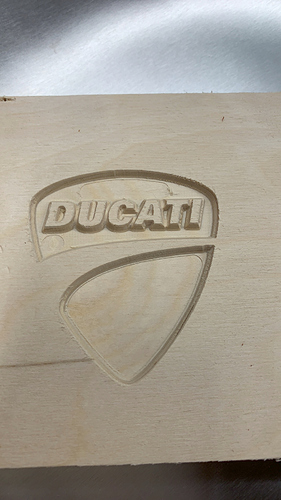 Took more tries than I'd like to get here… For some reason, my PC wasn't playing nice with the CNC controller, and it kept dropping the USB connection. Ended up having to switch to another USB port, and it's been going for a few hours since then. Also, the settings in the documentation are, how shall I say… Very conservative. So that first main cut took a LOOOOONG time! Hopefully got that resolved for cutting the insert, which is plugging away right now. This piece also was my first "tool change" project, so it's nice to get that under my belt.
Here's the insert… Just finishing the v-cleanup, and will start on the flat-bottom cleanup shortly. Hoping to get it glued up before knocking off for the night.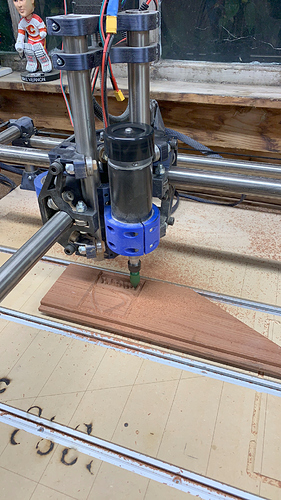 I think it's going to look pretty damn sweet when it's done! This friend might be getting a helmet/keyholder with the Ducati logo for Christmas when it's all done…
C